Lead with knowledge: educational marketing for financial advisors
When it comes to marketing for financial advisors, there are a dizzying number of options. You could pour money into online ads. Spend your days posting on every social media platform out there. Do battle with Google's algorithm to win the SEO war. Lure people to pitches with free food.
Some mix of these tactics might produce results for your business. But they can also create a long road from getting someone's attention to establishing trust and credibility. And they leave a valuable marketing tool on the table: the very expertise you've spent years cultivating.
Throughout my career as a marketer, I've consistently seen the power of education in driving client acquisition. For financial advisors, it's an opportunity to put your talents to work in a gratifying way — helping people and getting better ROI at the same time.
The financial education gap 1
Few people get meaningful education about finances growing up. There's very little instruction in schools. Unless someone's lucky enough to have a parent or relative dedicated to teaching them the ins and outs of personal finance, most people enter adulthood with nothing but memories of their piggy bank and slogans from credit card ads to guide them in learning to manage money.
Lack of knowledge = uncertainty and anxiety 2
Without a strong understanding of money management principles, people are left with worry and uncertainty — especially as they begin to look to the future and wonder how they'll pay for their kids' education or get by after retirement. People need help, and the folks who are most likely to use your services are actively searching for that assistance. They're hungry for the knowledge that will give them a sense of security about the future. That's where your expertise comes in.
Why education works: it's all about trust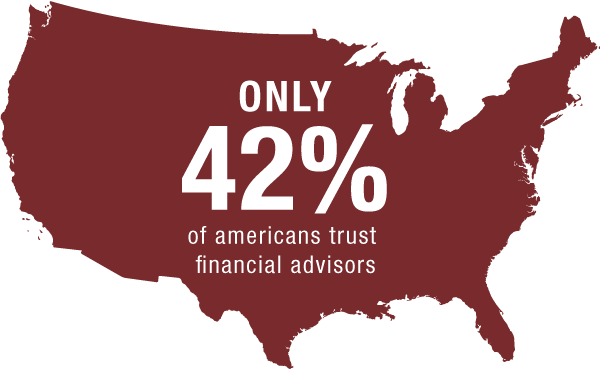 Providing education is a means to authentic, effective marketing for financial advisors. Why? Because it creates a rock-solid foundation of trust.
You spend quality time with people who already want what you offer
You give people expertise they value and help them feel empowered
You're not selling, you're serving — and that creates meaningful relationships
You're already an educator — you just need a system
So how do you become a teacher? If you look at what you do every day, you'll realize you already are. Educating clients is a core part of what you do, and the same skills you use to serve clients are invaluable in gaining new ones.
With an Educational Marketing System like FMT's, you can easily put your talents to work toward client acquisition. For financial advisors teaching courses, there are several puzzle pieces that have to come together:
An educational marketing system gives you the cohesive platform you need to really engage with qualified leads in an intimate, interactive setting. With FMT's system, we put all the pieces together, including filling your classes with eager participants. All you have to do is step into your natural habitat and shine.
From teacher to advisor, from students to clients
Imagine what would happen if each of your clients brought three interested friends along to their meetings with you. There's a good chance they'd learn a lot just by listening in, and many of them would become clients too. That's what happens when you invest in education as a marketing tool. Everyone in your class is motivated to take action — that's why they showed up in the first place. You get higher ROI with a quality-over-quantity approach to engaging with leads.
Educational marketing: investing for the long haul
Leading with knowledge is undeniably effective, and it goes beyond initial client acquisition. For financial advisors, client loyalty is what drives sustainable, long-term success. The value of the education you provide builds the kind of relationships that last.
I'm passionate about education marketing because I've seen how it benefits everyone: growing businesses for professionals and providing value for the people they serve. I hope this article has provided a bit of education you can put to use in magnifying your success. I invite you to explore the FMT platform and get in touch to discuss how our system can help you do more of what you do best.
---
1 *https://www.councilforeconed.org/policy-advocacy/survey-of-the-states/
2 https://cdn.finra.org/nfcs/2021/outlook.html