Why online financial literacy programs are taking off in 2022
Every few generations, we've seen transformations in the way we work. There was the move from the fields to the factories in the Industrial Revolution, the rise of women in the workforce in the WWII era, and the communications and productivity gains of PCs and email in the 1990s.
How people learn does not transform often. By and large, we've been in classrooms, sitting at desks, with a chalkboard (or whiteboard) behind the instructor since the dawn of public school. But now, in the aftermath of COVID-19, educational marketing strategies for financial services are quickly changing. As the move to remote work has dramatically changed the workforce, education and financial literacy programs have had to reinvent themselves as well.
Online financial education platforms solve the client acquisition puzzle

The rapid transition to the work-from-home office during the pandemic taught us a lot about what's possible — and has accelerated online video interaction by a decade. This has had an incredible collateral effect on education-based marketing for financial advisors.
For years, financial advisors have used the internet to support client acquisition with business blogs, LinkedIn outreach, cold sales emails, and search engine advertising. These more traditional digital marketing methods have less and less traction every year as the internet becomes flooded with them. What worked in the open frontier of the 90s and early 00s has lost a lot of steam in today's glut of ads and content. It's hard to be heard above the noise.
A recent Kitces report on the client acquisition costs of 800+ financial advisors showed that costs are unpredictable and primarily due to the valuable personal time of the advisor that's required to earn results. What's needed is a more scalable method at the intersection of local marketing and global appeal.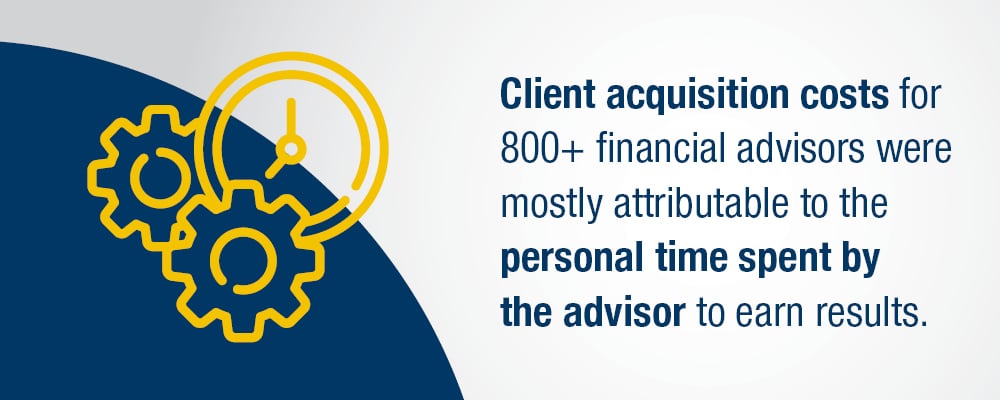 Online financial literacy programs fill this niche well and make an effective alternative to normal seminar marketing. Why?
It's where your audience spends their time: According to

Statista

, U.S. internet users now consume more than 15 hours of digital video each week. An online video format appeals to the do-it-yourself, YouTube culture of 2022, where prospects are doing their own research on their questions and working to understand complex ideas through the information-dense video format.
| | |
| --- | --- |
| | Scale up face-to-face interactions: When you run an online class in a video conference or webinar format, you're more than a banner ad or some dry business blog text. You're a face and an identity — an authority on financial matters, engaging your prospects directly and proving your expertise in response to personalized questions and concerns. This brings the social advantages of the dinner meeting to a scalable, nationwide pool of prospects. |
| | |
| --- | --- |
| | Build trust in an educational, non-sales environment: Online educational marketing programs are a form of relationship building. We're inundated with sales messages in our modern, digital world. Audiences are right to be skeptical of a sales pitch. Instructing a brief course on financial literacy gives you the opportunity to build a relationship in a non-sales setting and develop that critical element of trust. |
The tools are already there:

Advisors that were once hesitant about online financial literacy programs are now amazed at how much more quickly they can "form quick rapport and meaningful relationships despite never meeting in person," as

reported by ThinkAdvisor

. Turnkey programs like FMT empower advisors with a proven platform, market exclusivity, FINRA-reviewed course materials, and 1:1 coaching and support to help you master the digital classroom and convert attendees into clients.
Educational marketing platforms are getting results for advisors
Enrollment trends for online financial literacy programs in 2022 are accelerating like never before. At FMT, we've looked back on more than 500 virtual courses over the last several years, and our online seminars now attract an average of 20% more attendees compared to pre-COVID in-person courses.
Advisors regularly describe incredible results. For example, this case study shares the story of Mark, an advisor who saw 10 attendees, 7 appointments, and roughly $2M in new AUM after leading just a single two-class course — with more clients & AUM in pipeline. "All these attendees brought significant AUM to the table, mostly in the one to three million range," Mark reported, but he was even more impressed with the conversion rate on follow-up meetings. "Seven out of ten? I'll take that any day. After those initial meetings, we were able to schedule closing appointments with five of those prospects. We're incredibly pleased with that."
A typical result from teaching just one FMT course would include:
We've perfected the FMT platform across more than 20 years of educating over 500,000 affluent professionals, pre-retirees, and retirees. Contact us today to learn more about our financial marketing services and how a single online course could spark valuable new client relationships.